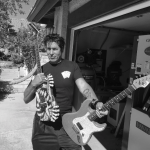 サウスダコタ州のライブに持って行く携帯録音機材のテスト中の雑談。ジョージが日本へ持ってくるギターは、Haji, Tiger, George Paul, Harris Charvel, and ESP Jaguar 12 String.
Featured Track:
Will The Sun Rise (UnderLock and Key – 1985)
Purchase your RTIC Products Here
Amazon purchase go to www.Metalmoment.com/Amazon
Get a free book at Audible www.Metalmoment.com/Book
Treats for your Dog?! www.butlerbites.com (enter promo code DOKKEN to get a free pack)
Patron:Hiroshi Tanida ($5), Chris Hays ($5)
Support the show by becoming a member of the Metal Moment Podcast & the Japanese Metal Head Show community member on Patreon!
Gears used today:
– Adobe Audition CC
– Audio-Technica ATR2100-USB Cardioid Dynamic Microphone
– Zoom H1 Portable Digital Recorder
– Audio-Technica ATH-M50x Professional Studio Monitor Headphones
– Coors Light Beer
Let Your Voice Be Heard on the Show!

Email: metalmoment@gmail.com
Click Here to send me a VM using your Smart Phone: 707-78-Metal (63825)

Podcast: Play in new window | Download
Browse Timeline