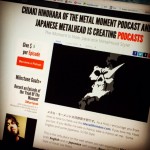 Today I am going to go 5150 Style. English and then in Japanese. 今日は英語と日本語で行って見ましょう! On this bonus episode, I play a voice message and spin some tunes.
I also talk about the Coho Salmon feast at Michael Butler's (Rock and Roll Geek) house. While Michael butchered the Salmon, I tended to my traditional Japanese soup.
I also talk about finally obtaining the domain name "BeerOfTheMoment.com".
I conclude the show by talking about a crowd funding service called Patreon that helps creators like myself in setting up campains to raise funds for the show. Patreon creates an ecosystem where the creator can then offer perks and rewards to their patrons.
今日のザ・雑談は、最近レコードにはまった話。針からの音。昭和時代の日本の音楽の正しい聞方。
Support the show by becoming a member of the Metal Moment Podcast & the Japanese Metal Head Show community member on Patreon!
Featured Tracks:
Stryper: Yahweh (Fallen – Frontiers Music Srl 2015)
Amy Lee: With or Without You (U2 Cover)
The Alfee: 恋人達のぺイヴメント (LIVE)
Gears used today:
– Adobe Audition CC
– Heil PR-40
– Roland UA-55 Quad Capture USB 2.0 Audio Interface
– Pop Filter
– Sony MDR-V6 Dynamic Stereo HeadPhone
– Coors Light Beer
Let Your Voice Be Heard on the Show!

Email: metalmoment@gmail.com
Click Here to send me a VM using your Smart Phone: 707-78-Metal (63825)

Podcast: Play in new window | Download
Browse Timeline