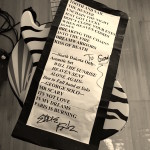 Today I talk about my experience in Sioux Falls South Dakota where Dokken rehearsed for the Japanese Tour. The highlights of the rehearsal and my thoughts on the future of the Classic lineup.
"Thank you to everyone who came out, and to those who were unable to attend but still showed support for the seven Dokken shows. I know it meant a lot to the fans, and to the four off us to reunite even for this limited number of shows. Just to avoid any confusion going forward at this time there are no concrete plans for any future Dokken reunion shows. Jeff and myself will not be apart of the upcoming Dokken shows until further notice. thanks again to everyone, keep an eye out for a live DVD in 2017"
-George

Featured Tracks:
Hurricane: I'm On To You ( Over The Edge – 1988)
Purchase your RTIC Products Here
Amazon purchase go to www.Metalmoment.com/Amazon
Get a free book at Audible www.Metalmoment.com/Book
Treats for your Dog?! www.butlerbites.com (enter promo code DOKKEN to get a free pack)
Patron:Hiroshi Tanida ($5), Chris Hays ($5)
Support the show by becoming a member of the Metal Moment Podcast & the Japanese Metal Head Show community member on Patreon!
Gears used today:
– Adobe Audition CC
– Heil PR-40
– Roland UA-55 Quad Capture USB 2.0 Audio Interface
– Pop Filter
– Audio-Technica ATH-M50x Professional Studio Monitor Headphones
– Coors Light Beer
Let Your Voice Be Heard on the Show!

Email: metalmoment@gmail.com
Click Here to send me a VM using your Smart Phone: 707-78-Metal (63825)

Podcast: Play in new window | Download
Browse Timeline