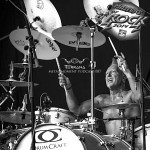 European correspondent, Steve Scott reporting from the Masters Of Rock 2014. On this episode he talks to Mike Terrana (Yngwie J. Malmsteen, Tony Macalpine, Steve Lukather, Kuni, Rage, Masterplan, Hardline, Axel Rudi Pell, Tarja Turunen Band). Topics include, working with Yngwie J. Malmsteen. Forming the band Terrana. Beauty and the Beat project with Tarja Turunen. Ex-Girl friend a stripper!? The changing industry, and much much more. He is quite a character so I hope you enjoy.
For all you George Lynch Fans, I have included some random news about George, as well as two Audio Snippets from his new project with Michael Sweet from Stryper. SWEET / LYNCH.
Masters of Rock is a large heavy metal festival held in Vizovice, Czech Republic on the territory of the Destillerie Rudolf Jelinek, about 100 km from Brünn, close to the Slovakian border. The main styles represented on this festival are power, speed and heavy metal, though the production tries to make the fest more open for other rock and metal styles as progressive rock/metal, hardcore, and death metal.
Featured Tracks:
Sweet / Lynch: Divine (Sound Sample, debut album will be released in early 2015 via Frontiers)
Sweet / Lynch: Time Will Tell" (Sound Sample, debut album will be released in early 2015 via Frontiers)
Terrana: One Way
Gears used today:
– Heil PR-40
– Roland UA-55 Quad Capture USB 2.0 Audio Interface
– Pop Filter
– Sony MDR-V6 Dynamic Stereo HeadPhone
– Coors Light Beer
Let Your Voice Be Heard on the Show!

Email: metalmoment@gmail.com
Click Here to send me a VM using your Smart Phone: 707-78-Metal (63825)
Click Here to send me a VM using your Computer/Laptop

Podcast: Play in new window | Download
Browse Timeline