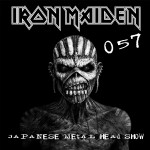 久しぶりの番組。これからもよろ乳首。メーデンで今日は行きましょう。
Featured Tracks:
The Organ Beats: Wasted Years (Iron Maiden Cover)
Iron Maiden: The Red And The Black (The Book Of Souls – Sanctuary 2015)
Metallica: Battery (Master Of Puppets – Blackened Recordings 1986)
ButlerBites.com:Butler Bites is a Gluten-Free All Natural Beef Liver Dog Treats Home Made With Love in San Francisco CA USA. Add 4 Packs to your Cart and ENTER the CODE "DOKKEN" at checkout and get $8 OFF. That's a 25% SAVINGS!
Gears used today:
– Heil PR-40
– Roland UA-55 Quad Capture USB 2.0 Audio Interface
– Pop Filter
– Sony MDR-V6 Dynamic Stereo HeadPhone
– Coors Light Beer
Let Your Voice Be Heard on the Show!

Email: metalmoment@gmail.com
Click Here to send me a VM using your Smart Phone: 707-78-Metal (63825)

Podcast: Play in new window | Download
Browse Timeline