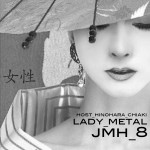 Today's theme is all about the Ladies. 今日のテーマはメタル女性です。I was overwhelmed by the number of tweets during the recording of this show. Thank you for all your requests. 録音中のつぶやきの数に驚きました。皆様、参加ありがとうございました。日本の皆様とこうやった時間が過ごせて光栄です。ドランカー度4.5
Featured Tracks:
Lady Gaga: Heavy Metal Lover 
Arch Enemy: Nemesis
Heart: Barracuda (requested by @tnclr)
Lita Ford: Can't Catch Me (requested by @mizutamav)
Otep: Breed (Nirvana cover)
Mari Hamada: Blue Revolution (requested by @defconone2007)
Doro: All We Are (requested by @bassdrive_tks)
陰陽座 甲賀忍法帳 (requested by @rinalunarian)
In This Moment: GunShow
Featured Drink of the Moment:
Red Stripe 4.7% Alcohol
Red Stripe Jamaican Lager has a refreshing taste, perfectly balancing malty-sweet and lightly hoppy flavors. The result is a lager that's crisp, clean and easy to drink. Red Stripe is moderate in body, bitterness, hop aroma and has a low butterscotch flavor.
今日のBonus Track:
中森明菜: Sand Beige ~砂漠へ~
Gears used today:
– Blue Yeti USB Microphone
– Pop Filter
– Sony MDR-V150 Dynamic Stereo HeadPhone
– CA Red Wine
– Red Stripe Beer

Podcast: Play in new window | Download
Browse Timeline