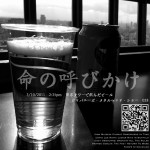 Todays show is Dedicated to Endo Miki. She saved the lives of thousands by making her final broadcast. A 24 year old public worker in the Crisis Management Department of the city of Minami Sanriku-cho.
10,000 feared to be dead, 7,000 who survived the tsunami that hit after the devastating earthquake on March 11th 2011. The survivors owe their lives to Endo Miki-san.
We also talk guitar strings, low wattage guitar amps, my first electric guitar. Jerry Gaskill, King's X drummer suffers from a Heart Attack. 今日の番組は遠藤未希さんに告げさしてもらいます。ギター弦、Marshall Class 5 Amp、初めてのギター話.
Featured Tracks:
Iron Maiden: Caught Somewhere In Time
David Lee Roth: Ladies Nite In Buffalo
Ozzy Osbourne: Breakin' All The Rules
Orange Goblin: The Fog / Return To Mars
今日 Bonus Track:
King's X: Goldilox
今日のザ・雑談
命の呼びかけ、遠藤未希さんありがとう。
今日の Album Art:
A picture of my Sapporo Can Beer I took on top of the Tokyo Tower on 3/10/2011 2:35 PM. 24 hrs before The Great Tohoku Earthquake. 地震の24時間前に東京タワーで飲んだビール。
今日の Gear:
– Heil PR-40
– Shure X2u
– Sony MDR-V6 Dynamic Stereo HeadPhone
– Tecate Beer / California Chardonnay / iichiko

Podcast: Play in new window | Download
Browse Timeline