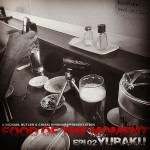 On this Episode, Michael and I visit Yu-Raku, a Japanese Chinese Restaurant in San Mateo CA. We talk about Michael Butler's new Dog Treats business, Butler Bites and his Saluki Dogs.
Other topics include, Extreme, Van Halen III with Gary Cherone, David Lee Roth's Podcast "The Roth Show", The State of Podcasting, playing with Warrant, Dio, Don Dokken, Stephen Pearcy of Ratt, Iron Maiden Trooper Beer etc etc.
Michael Butler (ButlerBites.com, Rock and Roll Geek Show, Cooking With Butler)
Chiaki Hinohara (Metal Moment Podcast, Japanese Metal Head Show)
Featured Restaurant:
Yu-Raku: Reba Nira / Asahi Draft Beer from Japan
Featured Track:
Bon Jovi: Tokyo Road (7800 Fahrenheit – 1985 Mercury Records)
Get your Free Bag of Butler Bites!
ButlerBites is a Gluten-Free All Natural Beef Liver Dog Treats Home Made With Love in San Francisco CA USA. Add 4 Packs to your Cart and ENTER the CODE "DOKKEN" at checkout and get $8 OFF. That's a 25% SAVINGS!
Gears used today:
– Zoom H1 Digital Handy Recorder
Let Your Voice Be Heard on the Show!

Email: metalmoment@gmail.com
Click Here to send me a VM using your Smart Phone: 707-78-Metal (63825)
Click Here to send me a VM using your Computer/Laptop

Podcast: Play in new window | Download
Browse Timeline