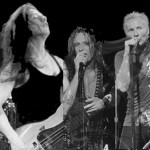 Guest Rob De Luca (Sebastian Bach, Spread Eagle, Lynch, UFO, Joan Jett)
Talks about his good friend Ron Thal aka BumbleFoot. George Lynch, Vinnie Moore, Metal Mike. Axl Rose. The album "Chinese Democracy". Features the track, "Scratch Like a Cat", "Suzy Suicide" and "American MetalHead"
News: Marty Friedman, Ichiro Suzuki, ex-Van Halen + Red Hot Chili Peppers + Guitar Professor = Chicken Foot?
ロブ・デ・ルーカ =メタラーはリハーサル無し!!

Podcast: Play in new window | Download
Browse Timeline