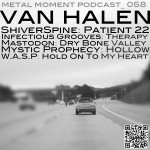 Van Halen Talk. We spin some tunes as well as learning English with host Chiaki. Valentines Tune for all you Lovers out there. Become a sponsor of the show. www.metalmoment.com and click on the Donate link.
Everyone should have Spotify and an Apple Airport Express Base Station.
Featured Tracks:
ShiverSpine: Patient 22 (requested by @Eclipse_ol)
Infectious Grooves: Therapy
Mastodon: Dry Bone Valley  
Mystic Prophecy: Hollow
Van Halen: Beats Workin'
W.A.S.P: Hold On To My Heart  
Learning English with Host Chiaki
Today's segment is sponsored by Bangkok_R_Baby
世界中のメタル・ヘッドの皆様に英語を教えようという企画
このバンドヤバイバルだぜ!
Man oh man oh man, This band is friggin amazing!
Gears used today:
Gears used today:
– Heil PR-40
– Shure X2u
– Pop Filter
– Sony MDR-V6 Dynamic Stereo HeadPhone
– Newcastle Brown Ale

Podcast: Play in new window | Download
Browse Timeline