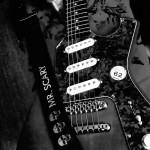 Back for More, Ratt style. Back for the Attack, Dokken style. Sitting in front of my iMac with my Ibanez Fireman Guitar FRM100TR. I introduce the new Metal Moment Website. Spinning some tunes and reading listener emails. I fire up my Marshall Class 5 Amp and play some memorable riffs from the Haydays of Metal.
The guitar used today is loaded with Dimarzio Injector Pickups. Strung with Ernie Ball Regular Slinky (10 – 46). The guitar goes into the Boss Metal Zone pedal then into the Marshall Head. Marshall Class 5 Series 1×10 speaker cabinet is miked with a Shure SM57. 日本語の方は Japanese Metal Head Show (JMH029) の方で説明しますのでよろしくお願いします。色々と新しいウェブサイトの話をします。今回使ったギターは最近中古で手に入れたIbanesのギターです。
Dial 707-78-METAL and let your voice be heard just like Dominic.
The Bonus section consists of Part 2 of the Steel Panther, live in San Francisco 7/12/12 at the Regency Ballroom. The live bootleg was recorded using my Zoom H1 Portable Digital Recorder.
Featured Tracks:
WASP: Seas Of Fire
Cinderella: Don't Know What You Got (Till It's Gone)
MotorJesus: Destroyer
Dokken: Sleepless Night
Bonus Live Tracks:
Steel Panther: Fat Girl (Live 7/12/2012 The Regency Ballroom SF)
Steel Panther: Asian Hooker (Live 7/12/2012 The Regency Ballroom SF)
Gears used today:
– Heil PR-40
– Shure SM57
– Ibanez Fireman
– Boss Metal Zone
– Marshall Class 5 Amp Head
– Marshall Class 5 Series 1×10 speaker cabinet
– Planet Waves Classic Series Cable
– Shure X2u
– Pop Filter
– Sony MDR-V6 Dynamic Stereo HeadPhone
– Coors Light Beer

Podcast: Play in new window | Download
Browse Timeline
Comments ( 2 )