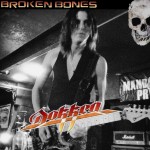 Dokken's new album, Broken Bones is killerz you all. An album that a mature audience will appreciate for sure. We also spin some non-George Lynch era Dokken tunes.
Listener Dom from the Maximum Threshold calls the, LET YOUR VOICE BE HEARD hotline. He comments about the Dokken bootleg I recorded at the Rodeo Club in San Jose California back in September 2012. I also talk about EMG pickups, and Mr. Kido Hiroshi's Kid's Guitars. また日本語が少ないエピソードになってしまいました。どうもすみません。ドッケンのこの新作ちょうアダルトって感じです。大人のリスナーの方には分かりますこの美しさ。ジョージ・リンチ無しのドッケンの良さを一緒に体験しましょう。ジョン・レビン、ジョン・ノラム、レブ・ビーチ。
(correction) I mention Steve Lukather plays rhythm guitar and Eddie Van Halen played the solo on the track "Billie Jean", but I meant "Beat It".
Featured Tracks:
Dokken: Burning Tears (Broken Bones 2012 – Jon Levin on Guitar)
Dokken: Blind (Broken Bones 2012 – Jon Levin on Guitar)
Dokken: Change The World (Erase The Slate 1999 – Reb Beach on Guitar))
Don Dokken: Mirror Mirror (Up From Ashes 1990 – John Norum / Billy White on Guitar)
Gears used today:
– Heil PR-40
– Roland UA-55 Quad Capture USB 2.0 Audio Interface
– Pop Filter
– Sony MDR-V6 Dynamic Stereo HeadPhone
– TECATE Beer
Email: metalmoment@gmail.com
Leave a voice message: 707-78-Metal

Podcast: Play in new window | Download
Browse Timeline