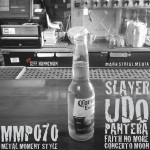 Mark Strigl Media, listener voicemail 707-78M-ETAL, short Jeff Hanneman Tribute etc etc.
Spinning some fantastic tunes with a beer in hand. Its another one of those random episodes for all you MetalHeads. FreeBalling it on a Friday afternoon. アメリカにはホッピーが無いので類さん送って来てください!
Mark Strigl Media is a joint effort between Mark Strigl of Talking Metal, and Victor M. Ruiz of Mars Attacks to bring you the absolute best in hard rock and metal possible.  The days will be filled with music, and the night filled with all types of great music talk.  In the coming weeks and months we will be expanding our offerings to bring you live shows, special content, and new shows.
Featured Tracks:
Slayer: Hell Awaits (Requested by Johnny "Rock" P)
UDO: Steelhammer (Steelhammer 2013 AFM Records)
Pantera: New Level (Vulgar Display Of Power 1992 Atco Records)
Faith No More: Epic (The Real Thing 1989 Slash Records)
Concerto Moon: Lies And Betrayal (Rise From Ashes 2008 Phantom Sound & Vision)
Gears used today:
– Heil PR-40
– Roland UA-55 Quad Capture USB 2.0 Audio Interface
– Pop Filter
– Sony MDR-V6 Dynamic Stereo HeadPhone
– Corona Beer
Email: metalmoment@gmail.com
Leave a voice message: 707-78-Metal

Podcast: Play in new window | Download
Browse Timeline