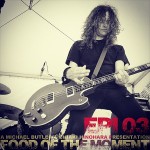 Part 2 of Michael Butler and I at a restaurant I call my home, Yu-Raku a Japanese Chinese Restaurant in San Mateo CA. Michael talks about making his own Tako Wasabi, and Kakuni. His experience loosing his daughter Martina's domain name, EmoGirlTalk.com. His theory on how GoDaddy is in on this evil business. I also talk about the most nutritions way to consume tomatoes.
Michael Butler (ButlerBites.com, Rock and Roll Geek Show, Cooking With Butler)
Chiaki Hinohara (Metal Moment Podcast, Japanese Metal Head Show)

Featured Restaurant:
Yu-Raku: Fried Octopus / Asahi Draft Beer from Japan
Featured Track:
Stryper: Calling On You (Live At The Whisky – Frontiers Records 2014)
Get your Free Bag of Butler Bites!
ButlerBites is a Gluten-Free All Natural Beef Liver Dog Treats Home Made With Love in San Francisco CA USA. Add 4 Packs to your Cart and ENTER the CODE "DOKKEN" at checkout and get $8 OFF. That's a 25% SAVINGS!
Gears used today:
– Zoom H1 Digital Handy Recorder
– Heil PR-40
– Roland UA-55 Quad Capture USB 2.0 Audio Interface
– Pop Filter
– Sony MDR-V6 Dynamic Stereo HeadPhone
– Coors Light Beer
Let Your Voice Be Heard on the Show!

Email: metalmoment@gmail.com
Click Here to send me a VM using your Smart Phone: 707-78-Metal (63825)
Click Here to send me a VM using your Computer/Laptop

Podcast: Play in new window | Download
Browse Timeline