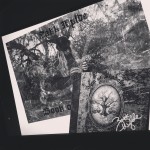 Today I talk about how music releases a special chemical that triggers the brain.  Takes you back, all those memories.  The Album that I can not listen to for this reason is Zakk Wylde's Book of Shadows released back 20 years ago.  I spin a tune sent to me by Sven from the band Torpedoed.  I also share  a conversation that I recorded while I was eating by myself at a Ramen Shop in San Mateo California USA. This guy is trying to get laid.  The question is this.  Did he get LAID?  You decide.  
Featured Tracks:
Zakk Wylde: Tears Of December (Book of Shadows II – Entertainment One Music 2016)
Torpedohead: Blood on Wheels ( III )
Patron Supporter:
001 Hiroshi Tanida
Support the show by becoming a member of the Metal Moment Podcast & the Japanese Metal Head Show community member on Patreon!
Gears used today:
– Adobe Audition CC
– Heil PR-40
– Roland UA-55 Quad Capture USB 2.0 Audio Interface
– Pop Filter
– Sony MDR-V6 Dynamic Stereo HeadPhone
– Hitachi NoNest Beer Red Rice Ale
Let Your Voice Be Heard on the Show!

Email: metalmoment@gmail.com
Click Here to send me a VM using your Smart Phone: 707-78-Metal (63825)

Podcast: Play in new window | Download
Browse Timeline