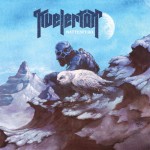 Under the influence, talking about a band that I discovered. The track sounded so familiar with another track from the past. Took two days for me to finally figured it out.
I sent the track to my friend Michael Butler to see if he can recognize the similarities of the song to the one that I was thinking about. The Answer? Your answer? Coming up. Devil's Slide Tap Room talk as well.
Featured Tracks:
Kvelertak: 1985 (Nattersferd – 2016)
Bruce Dickinson: Tattooed Millionaire (Tattooed Millionaire – 1990)
Patron:Hiroshi Tanida ($5), Chris Hays ($5)
Support the show by becoming a member of the Metal Moment Podcast & the Japanese Metal Head Show community member on Patreon!
Gears used today:
– Adobe Audition CC
– Heil PR-40
– Roland UA-55 Quad Capture USB 2.0 Audio Interface
– Pop Filter
– Audio-Technica ATH-M50x Professional Studio Monitor Headphones
– Flying Dog Raging Bitch Belgian Style IPA 8.3% ABV 60 IBU
Let Your Voice Be Heard on the Show!

Email: metalmoment@gmail.com
Click Here to send me a VM using your Smart Phone: 707-78-Metal (63825)

Podcast: Play in new window | Download
Please follow and like us:
Browse Timeline
Comments ( 1 Comment )