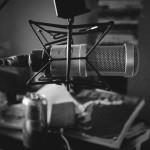 今日は飲みながらザ・雑談スタイルで。ヴァン・ヘイレンとサミー・ヘイガーが再開するか? Eddieの5150ギター話。Michael Anthonyは、今どこに? アクセル・ローズがAC/DCにのヴォーカルになるか?ライアン・ジョンソンがグビになった?ガンズ復活?Van Halen, AC/DC, Guns n' Roses Talk. Vinyl レコードの暖かさ、リバイバル。ドランカー度4.2.
Eddie Van Halen 5150 Steinberger Guitar 
Jeff Babicz wrote, "Just another day at the office…NOT! Here I'm doing the final set-up on Eddie Van Halen's 5150 Steinberger guitar. I restored this guitar for Eddie, which included a re-fret, TransTrem rebuild, new pickups and more…"
"So I get a call from Eddie Van Halen, who asked me if i'm interested in restoring some of his guitars (of course I said yes!). Here is one of the guitars he sent me: His iconic Steinberger 5150 striped GL2T, serial #3340. I built this guitar for him in November 1985…almost 30 years ago to the day!. When discussing the restoration approach with Eddie, he says "this guitar is as important to the music as the songs themselves…I want to play this guitar again, people want to see this guitar." I will be doing a re-fret, installing vintage EMG pickups, and rebuilding the Steinberger TransTrem tremolo unit for him. Stay tuned."
Featured Tracks:
Van Halen: It's The Right Time (Mitch Malloy – Demo1996)
Van Halen: That's Why I Love You (Gary Cherone – Demo 1996)  
Begin: 恋しくて
Support the show by becoming a member of the Metal Moment Podcast & the Japanese Metal Head Show community member on Patreon!
Gears used today:
– Adobe Audition CC
– Heil PR-40
– Roland UA-55 Quad Capture USB 2.0 Audio Interface
– Pop Filter
– Sony MDR-V6 Dynamic Stereo HeadPhone
– Hitachi NoNest Beer Red Rice Ale
Let Your Voice Be Heard on the Show!

Email: metalmoment@gmail.com
Click Here to send me a VM using your Smart Phone: 707-78-Metal (63825)

Podcast: Play in new window | Download
Please follow and like us:
Browse Timeline